Eva J Redinger
Born: 1/10/1926, San Fransico, CA
Death: 3/8/2010, Castle Valley, UT
Service: 03/13/2010, 7:00 pm, DayStar Adventist Academy

Castle Valley, Utah – Eva J. Redinger passed away on Monday, March 8, 2010.
Eva was born in San Francisco, CA on January 10, 1926 to Jed and Elsie Harmon Smith, where she grew up and attended school. She quit school at a young age to help support the family. While working she met and later married Leonard Redinger on October 5, 1947 in Oakland, CA. Leonard passed away in 1989. Eva work for the Federal Government until she could retire, then continued to work as a motel manager. Eva was active in church as a Deaconess, Sabbath School Secretary and served in community service. She also had a great love of reading, and crossword puzzles, but her greatest love was her family.
Eva is survived her 2 sons Michael Redinger of Sparks, NV and Randy Redinger of Fallon, NV; a daughter Michelle Ward of Castle Valley, UT; a sister Barbara Gaunt of Salem, OR; 5 grandchildren, and 4 great grandchildren.
She was preceded in death by her parents, husband, 3 brothers Eugene, Don, and Kirby, and a sister Nora Jones.
At Eva's request, cremation has taken place and services were held at the Daystar Adventist Academy Saturday March 13 at 7:00 pm.
Photo Gallery - Click a Picture For Enlarged Slide Show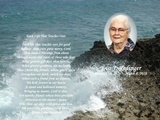 Printable Page Add Picture Add Tribute/Condolence
PLEASE NOTE: Pictures and Tributes will be reviewed before being posted. We will post them ASAP, we appreciate your patience. PLEASE DON'T RESUBMIT.
Dorothy Carpenter
b: 3/9/1921
d: 8/7/2018
Service: 08/17/2018, 10:00 am
Community Church
Shirley Bertwell
b: 5/26/1936
d: 8/6/2018
Service: 08/24/2018, 1:00 pm
Spanish Valley Mortuary
Nolan Morse
b: 12/6/1923
d: 7/29/2018
Service: 08/03/2018, 10:00 am
Grand Valley Cemetery
Nancy Ball
b: 6/16/1947
d: 7/29/2018
Service: Pending
Laura Senter
b: 11/8/1936
d: 7/26/2018
Service: Pending
Shirley Miller
b: 10/9/1925
d: 7/17/2018
Service: Private
They Live On
Those we love remain with us
For love itself lives on;
Cherished memories never fade
Because one loved is gone.
Those we love can never be
More than a thought apart;
For as long as there's a memory,
They live on within our heart.