Jeanne von Zastrow

Born: 6/10/1955, Blanding, Utah
Death: 1/20/2019, Moab, Utah
Service: 01/26/2019, 11:00 am, St Francis Episcopal Church


Jeanne Black von Zastrow died Jan. 20, 2019. She was born to Don and Wanda Black on June 10, 1955 in Monticello, Utah. Jeanne met the love of her life, David von Zastrow, in 1975 where they both worked at Lake Powell. They were married at Lake Powell in 1981. Their son, Max, was born in 1993 and became the joy and central focus of their lives.

Jeanne lived her life fully. Her energy, creativity, generosity and sense of adventure took her all over the world, led her to meet life-long friends, and to launch an amazing career at the Food Marketing Institute in Washington, D.C. In her position she took on CEOís and board members to successfully fight for issues close to her heart such as sustainability and the environment. Jeanne mentored dozens of young people throughout her life and rejoiced in their successes.

Jeanne never met an adventure she didnít love. She was a force to be reckoned with and embraced life with her entire being. She had a beautiful sense of style and flair; she always looked elegant and upbeat. She loved to hike, and she loved the La Sal Mountains where she and David built a home. She loved all cultures and people.

More than anything, Jeanne treasured her large extended family and friends, and she treasured Southern Utah. She often said sandstone and red rocks flowed through her veins. Together, Jeanne and David, and oftentimes, Max, hiked hundreds of red rock canyons and high mountain peaks. Their home was always open to friends and family. They considered Maxís friends their sons. Jeanne was incredibly devoted to her family and took excellent care of Uncle Ozzie and her parents as they aged.

An amazing wife, mom, sister, daughter, aunt, friend and colleague, Jeanne changed lives and made the world a kinder, more beautiful and magical place.

Jeanne leaves behind her devoted husband, David, and the light of her life, Max, as well as sisters Joni and Donna. She also has countless family and friends who love and adore her.

Services will be held Saturday, Jan. 26 at 11 a.m. at St. Francis Episcopal Church, 250 S. Kane Creek Blvd., Moab. In lieu of flowers, donations can be made to Seekhaven, P.O. Box 729, Moab, Utah, 84532.

Tributes:

I am one of many who are heartbroken at the passing of Jeanne Von Zastrow. I sorrow for her kind and loyal Dave, and I ache for the unanswerables remaining for sweet Max. Like everyone who knew Jeanne I have a basketful of regrets. I would have loved another chance to rope swing and swim in the turquoise waters of Havasu Falls with Jeanne in the lead. I would love to indulge once again in Jeanne's freshbaked lasagna dinner with a big scoop of creamy ice cream for dessert and hear her bigger than life stories and laughter no matter which home we visited her in. I should have told her what a remarkable example of motherhood she was to me those months after Max's surgeries, tirelessly caring, serving and teaching. Who teaches their children biofeedback to assist in nerve regeneration before it's ever needed? Jeanne did, and in my opinion, played a vital role in his full recovery and function. Jeanne and Dave raised a great man. My family (and entire neighborhood) is eternally endeared to Max. Other random memories: I chuckle when I recall Jeanne's "intermittent fasting." It consisted of a giant snicker bar at 2am and that was it. I took home a few black garbage bags of her thrift store clothing in hopes of looking as great as she did. That never happened. Jeanne was beautiful inside and out. I envision Jeanne today hiking and exploring celestial peaks and preparing a home for her family and friends. I look forward to visiting her there. Bonnie Peterson


- Bonnie PetersonThis is from Kristina Sherwood, Jim Sherwood's wife. Mom Cherril and Wanda were sister's and Jim and Jeanne are cousins. Jeanne was the beloved wife of David and Mother of Max. When we first met, Jeanne and I were instant friends, cousins and sister's. I loved her deeply, especially that sparkle in her eyes. for which will forever remain etched in my memory. A sweet friendship refreshes the soul. Proverbs 9:27 We were honored and blessed to have spent quality time with Jeanne and David going on most excellent adventures exploring Utah. Jeanne was extremely passionate about the land, her walkabouts and Bears Ears. My favorite hike was when Jeanne took us on a trail that wasn't marked and truly off the grid. To get there was a precarious, steep climb and she was our fearless guide. When we climbed to the top of the mountain, she sighed, surrendering to the beauty of her special place. I had never seen any place like it on Earth and it was glorious! There were gigantic sandstone fins jutting out from the top of the mountain everywhere. She smiled with that sparkle in her eyes sharing her secret spot with us, which I will never forget. I proclaim that trail as Jeanne's Walkabout. Jeanne was a light in our lives, full of joie de vivre, which is a cheerful enjoyment of life; an exultation of spirit. She and I had many conversations about spirituality and shared books as we embraced all religions. It's important to mention Jeanne's devotion to religion as a whole because we share that passion. Jeanne was raised Mormon and I was raised Roman Catholic. We respected our religious roots and also explored Buddhism together. We were blessed that our families loved us no matter what. I am grateful to be welcomed into my Mormon family with open arms with great love. Jeanne and I went to see Thich Nhất Hạnh, a 92 year old Vietnamese Buddhist monk who continues to promote peace and enlightened thinking. Jeanne and I agreed that our world needs more love, forgiveness and peace. I've come to realize that nothing in this life can prepare us for losing someone that we love. When we lose someone we love we must learn, not to live without them, but to live with the love left behind. Even though our hearts are broken by the loss of our beloved Jeanne, she is now our guardian angel. A beautiful soul is never forgotten. I had to give several eulogies lately for many losses within my own family and I said the same thing each time: Death is the hardest part of Life for those left behind Rumi, the Persian, Islamic scholar and Sufi mystic wrote: Death has nothing to do with going away. The sun sets. The moon sets. But they are not gone. It's not surprising to me that Jeanne left our world on the day of the most auspicious astronomical event of our time whereby the moon passed through Earth's shadow in a total lunar eclipse during the Full Wolf Moon also known as the supermoon. Then a meteor hit the moon! I asked Jeanne for a sign and that's the biggest sign I saw! Perhaps there are no stars, but openings in Heaven where the love of our beloved Jeanne will continue shine down upon us as a sign that she is at peace. If anyone would like to reach out, my email is evergreenkristina@mac.com We plan on doing our usual Easter weekend walkabout including David and Max in Blanding, Utah. Let us know if you'd like to join in? April 19-20-21-22 Sending my love and positive healing energies to all who knew and loved Jeanne.




- Kristina SherwoodI served on the Board of FMI for a number of years and my wife, Sue, and I had numerous opportunities to interact with Jeanne. Whenever Jeanne was in the room, you knew that you had a friend nearby. Our deepest sympathies to all who knew and cherished her.

- Craig Cole Brown & Cole Stores (ret.)I'm so sorry for your loss. Jeanne was a warm and caring colleague. She will be missed!

- Karen Shunk#jeanne_von_zastrow 💚💛💙💜💖

we meet fortuitously in cairo since 10 years ago
with our sisters & donna & joni & mom wanda ،،

we spend together few hours With a full lifetime
Many memories Which is unforgettable

I felt among them family members

We had a close friendship for years and We were in constant contact with much respect and love

She was always kept asking about me until last call at Saturday before she died hours
I feel like she was wanted to say goodbye for me 😰

She was always beside me In the most difficult moments
the only one support

She was really a wonderful person Angels of the soul and pure heart Will not be repeated
Jeanne was and will always be an inspiration and guiding light

Our loss and shock is really so terrible 😱
i,m swear i,m can,t blieve till this moment
will never forget u our sweet jeanne ،،
i,m sending prayers your way allway,s . Rest in peace 🙏🙏

- shrief from cairoAbsolutely heartbroken with a huge loss of my sister
, friend, hero, my buddy, cheerleader, and soulmate , will never forget u #jeanne_von_zstrow > she was allway,s near me in Hardest positions and did alot for me . . The world is a bit darker now. She was a great human with a pure heart .. Prayers for her good spirit

- shrief from cairoHonoring my friend and past colleague Jeanne Von Zastrow. Always doing good, always striving to be better. We are lucky to have been with you on your journey. Sending my heartfelt condolences to Dave and Max (who I still believe is here because of bee pollen)

- Beth BeemanSo sorry for your loss. May God bless you!

- Nita and Bryon WalstonJeanne has been a friend of mine for 30 years. We all grew up together in the early seafood days. Dearest Max and David--you must know how much you were loved by this woman with the heart of gold and a spirit that was irrepressible.

Jeanne and I traveled to Chile together in 2012--when she was part of a tour group I organized and, as everyone could predict, she was loved and admired by all. We've had wonderful times together, but never enough, never enough.

Jeanne von Zastrow made her mark, and huge contributions to humanity everywhere she went. Gone way too soon but never, ever, ever forgotten. The world is a better place because of you, my dear "other Jeanne." Hike on in Heaven!

Your dear friend, Jeanne McKnight
- Jeanne McKnightJeanne and I grew up together in the same neighborhood...we spend a lot of time hanging out with friends and we even went on a few dates. She was always a class act and so nice to everyone. I was so sad to hear she has passed. All the best to David and Max at this very hard time.

- Heinz J. ( Joe ) MahlerMy heart and soul are heavy with sorrow over the loss of our beloved cousin Jeanne. I remember her from the time she was a newborn and all my memories of her are wonderful. Like Jeanne sitting on our grandpa Hunts lap and laughing as grandpa bounced her on his knee and asked her "Are you my little man?" She would answer "Yes, by Judist Priest I am."
Jeanne had the biggest heart and the brightest soul to share with all. She was indeed all the things that others have shared in this moment of grief. I pray for David and Max, and her wonderful sisters Joni and Donna. They were always such a team with their lives filled with adventure. They are the closest family I have ever seen. I pray for healing and recovery for all. And may Jeanne's light continue to shine each and every day in all of our lifes.
Meech (Oz Johnson)

- Oz JohnsonI was so shocked and saddened to hear the news about Jeanne. I worked with Jeanne at FMI in the '80s and thought she was great . . . so smart, creative, capable, and lots of fun. My sincere condolences go out to Jeanne's family. I know she will be dearly missed.
- Nancy FoxMax -
We were saddened to hear of the loss of your Mom. Stay strong, and cherish the good memories. Express our condolences to your Dad, as well.
- Shauna & Al HoilandI will never remember when the family came to Moab and visited us in our home. Little Max was such a darling. Jeanne and I shared a love of hiking and the red rock country. I am saddened that she is no longer with us. Maybe she can find some places to hike up there. Rest in peace, my friend.
- Virginia AllenWonderful person. Great family. Great loss.
- Brad & Cindy HessA lovely, spiritual woman who understood and lived a purposeful life. I will miss her a great deal.
- Suzanne ForbesSo sad to hear of Jeanne's passing. I worked with her for many years while Chair of FMI Seafood Sustainable group. I looked forward to all of our meetings and had a visit to Wegmans from her. After this visit we went to dinner and Danny Wegman was also in the restaurant. I had the opportunity to introduce Jeannie to him!
Again I am so sorry.
- Carl Salamone---Wegmans Food Mkts.I am so sorry for your loss. Jeanne was an amazing lady, always a ray of sunshine and so motivated to work for any cause she truly believed in. She was an inspiration to me and many others. She will truly be missed.
- Andrea Miller (Washington, DC)Please accept my sincere condolences. Your family will be in my prayers for comfort and healing.
- Richard CastleDear David, Max and the Black and von Zastrow families,
I am at a loss for words as my heart is broken for you and for the world. Jeanne was one of the brightest stars in my universe and I was beyond privileged to work with her and call her a friend. Her spirit, passion and positive energy will always be a standard in which i will try to emulate. Much love to you all and Jeanne and your family will remain in my thoughts and prayers.
- Suzanne GeorgeThank You Gary for being the wonderful man that you were. I enjoyed all the time that we visited at Moab Grill. I was very sad to see the picture in the paper. I'm sorry that i didn't get to ride in the new 3 wheel car.. He was so happy to get it..What a wonderful man.
God bless you all.
- Larry CampbellI am so shocked. She and I were visiting teaching companions for a while and she was so much fun, bringing smiles and hope to those we visited with. She will be missed. She was so brave to venture out with new challenges. Love to the family.
- Mary Jane CozzensDear David, Max, and the Black and Von Zastrow families Ė I am deeply saddened to learn of your loss. Jeanne was an exceptional person and will be missed by everyone who knew her. I donít want to think about how much I will miss her, instead I pray that the fond memories we have of her will bring us all comfort during this difficult period. My heart and prayers go out to you, her loved ones. Nadine
- Nadine Bartholomew (Washington, DC)Dear David & Max,
I am so sorry for your loss. She was a beautiful lady inside and out. Such kindness & grace will definitely be missed. My heart breaks for you both. God Bless you with peace.
- Sabrina RandallDear David, Max and all of Jeanne's family -
We both feel a deep sense of grief for the loss of the very special person of Jeanne. She always showed us the goodness and honesty of her nature and we will miss her sporadic visits to our home. We do believe that she is now in a place where she can look at us all and know - with certainty - that we care very much for her. And for you. With much love,
- Bob and Margie ReadOur sincere condolences Davey
- Dennis & Terry CoxDear Dave & Max,

I am so sorry for your loss. Jeanne was an amazing vibrant lady.She Always worked hard and played hard. She will truly be missed. My heart and prayers go out to all of you.

Lovingly,

Julie B.
- Julie BierschiedDear Dave & Family -
My thoughts & Prayers are with you as you mourn Jeanneís passing & celebrate the completion of her Circle of Life.
May Jeanne Rest In Peace
Sincerely,

- Charlotte Mates

Photo Gallery - Click a Picture For Enlarged Slide Show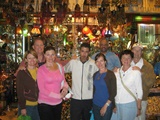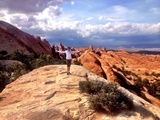 Printable Page Add Picture Add Tribute/Condolence
PLEASE NOTE: Pictures and Tributes will be reviewed before being posted. We will post them ASAP, we appreciate your patience. PLEASE DON'T RESUBMIT.
Patsy Craft
b: 7/28/1939
d: 7/9/2020
Service: 08/01/2020, 6:00 pm
Old City Park
Barbara Brady
b: 5/28/1943
d: 7/4/2020
Service: 07/11/2020, 10:00 am
Spanish Trail Arena Pavilion
Shirley Shelton
b: 9/17/1934
d: 7/4/2020
Service: Pending
Cesar Vega
b: 6/8/1975
d: 7/2/2020
Service: 07/11/2020, 11:00 am
Moab LDS 400 North Chapel
Milo Randall
b: 3/21/1938
d: 6/29/2020
Service: 07/06/2020, 11:00 am
Spanish Valley Mortuary
Stephanie Zimmerman
b: 7/11/1981
d: 6/15/2020
Service: 06/21/2020, 2:00pm
Lions Park
They Live On
Those we love remain with us
For love itself lives on;
Cherished memories never fade
Because one loved is gone.
Those we love can never be
More than a thought apart;
For as long as there's a memory,
They live on within our heart.