Clifford Leon Joy

Born: 6/3/1934, Miami, Arizona
Death: 2/5/2019, Moab, Utah
Service: Pending


obit to be added at a later date.

Tributes:

I am saddened to hear of your passing. 😭 It was nice to get to know you a little while I was working on your place!I am sure Cliff and Robert were happy and waiting to hug you! You were always very important to Cliff! He had a lot of respect and love for you!

I thank you for always caring about him and not looking down upon him, as others in the family did! I know that meant a lot to him! It seems all the family that treated him decent are all up there! 😭 So you all behave yourself, until we meet again!
- Extension of Cliff

Printable Page Add Picture Add Tribute/Condolence

PLEASE NOTE: Pictures and Tributes will be reviewed before being posted. We will post them ASAP, we appreciate your patience. PLEASE DON'T RESUBMIT.
Mary Mays
b: 3/5/1939
d: 9/22/2020
Service: Pending


OraLynn Means
b: 7/13/1936
d: 9/21/2020
Service: 09/28/2020, 11:00 am at The LDS Church on 400 North


Guy Thomas
b: 1/10/1950
d: 9/18/2020
Service: Private


Werner Wucherer
b: 1/20/1934
d: 9/10/2020
Service: Private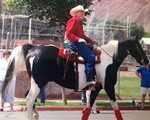 Rodney Dalton
b: 1/18/1934
d: 9/1/2020
Service: 09/08/2020, 10:00 am Grand Valley Cemetery

They Live On
Those we love remain with us
For love itself lives on;
Cherished memories never fade
Because one loved is gone.
Those we love can never be
More than a thought apart;
For as long as there's a memory,
They live on within our heart.