Susan Myrtle Simpson

Born: 9/19/1959, Moab, Utah
Death: 3/11/2019, Moab, Utah
Service: Private


Susan Simpson passed away peacefully at home on the morning of March 11, 2019. Susan was a dedicated homemaker, and the void her passing has left is immense. Susan enjoyed gardening, doting on her cats, and being crafty. She has left behind many friends and family members, having been born and raised in Moab.

Susan is survived by her husband Dan, daughter Katy (Shaun) Dalton, son Nick (Rhonda) Keeley, daughter Lydia (Kaleb) Dalton, and son Jake Simpson. She was devoted to her 6 grandchildren. She also leaves behind her brother Mike Leech, sister Betty (Lyle) Baldwin, and brother Brent (Randi) Leech.

No funeral services will take place, but a celebration of life will be held by the family in the upcoming weeks. Anybody that would like to share our day remembering Susan is encouraged to attend.

Tributes:

I am so sorry to hear the news, and my Thoughts & Prayers are with the family at this time. Susan had a smile that made you laugh. Soar the Heavens, and Dance the Stars Lady.
- Cindee StephensMy heart aches for you guys. She was an amazing person and I'm so blessed I got to meet her If there's anything I can do or any thing you need please let me know.
- Leandra

Printable Page Add Picture Add Tribute/Condolence

PLEASE NOTE: Pictures and Tributes will be reviewed before being posted. We will post them ASAP, we appreciate your patience. PLEASE DON'T RESUBMIT.
Mary Mays
b: 3/5/1939
d: 9/22/2020
Service: Pending


OraLynn Means
b: 7/13/1936
d: 9/21/2020
Service: 09/28/2020, 11:00 am at The LDS Church on 400 North


Guy Thomas
b: 1/10/1950
d: 9/18/2020
Service: Private


Werner Wucherer
b: 1/20/1934
d: 9/10/2020
Service: Private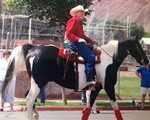 Rodney Dalton
b: 1/18/1934
d: 9/1/2020
Service: 09/08/2020, 10:00 am Grand Valley Cemetery

They Live On
Those we love remain with us
For love itself lives on;
Cherished memories never fade
Because one loved is gone.
Those we love can never be
More than a thought apart;
For as long as there's a memory,
They live on within our heart.