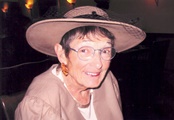 Ferne Berrian Mullen
Born: 1/22/1919, Evergreen, Colorado
Death: 3/23/2010, Moab, Utah
Service: 03/29/2010, 10:00 am, St. Pius X Catholic Church
Interment: 03/29/2010, 11:30 am, , Sunset Memorial Gardens Cemetery
Ferne Jacqueline Mullen
On the morning of January 22, 1919 a kind, gentle yet spirited soul entered this world, Ferne Jacqueline Berrian-Mullen. Late in the evening of March 23, 2010 her loving spirit left this world to be with her sons Robert, Michael and John, her granddaughter Kelly and the love of her life, husband John Raymond. They were all on a sandy beach of the Grand Canyon waiting for her with a dry martini, a deck of cards, an exciting novel, a crossword puzzle, and a raft ready to carry them down her beloved Colorado River.
Ferne loved care giving. She graduated from Colorado Nursing School in 1938. She worked as an emergency nurse in small mining towns in Colorado and Montana. At times she would enter a mine and administer care to a trapped miner as the rescue crew worked to free him. She loved nursing and worked on the hospital floor, assisted in surgery and delivered babies. She also served as Director of Nursing in Leadville, Colorado and Moab, Utah.
After retirement she took many river trips down the New River in West Virginia, Cataract Canyon, West Water Canyon, Desolation Gray Canyon, the San Jaun, the Snake and Salmon Rivers of Idaho, and her most beloved Grand Canyon. Her calm, fun-loving energy was adored by all her many river running friends.
Against all odds in 1987, Ferne, a female democrat was elected to the Grand Countyís Council. Her motivation to run was to keep a toxic incinerator from being built in Grand County. She believed in democracy and knew it was not a spectator sport. She would study issues and candidates and make informed decisions on whom to vote for and what issues to support and ones to fight. Ferne taught her children to question yourself, your church and your government. Not agreeing does not mean lacking respect. When asked if she was a liberal or a conservative her response was, ďIím neither, Iím rational.Ē
Her many accomplishments included being a licensed pilot, South Eastern District Business and Professional Woman of Achievement in 1990 and Catholic Woman of the Year. She was an avid outdoor person who loved camping and hunting. During her lifetime, she participated in many sports including softball, bowling, golf, and skiing. She was a master bridge player.
Ferne was a spiritual person who attended both daily and Sunday Masses at her beloved Catholic Church, St. Pius the X. She thought of her church community as being part of her extended family.
Above all else Ferne loved her family and friends; this was especially evident during the last days of her life. She left this world surrounded by special long time friends: Annie, Stephanie, Lisa Jones and Serena, as well as her daughters and many grandchildren.
She is survived by her daughters and their families: Mary and Jim McGann, Patricia Mullen and Holly Mullen, her daughter-in-law. Her grand children and their families: Kate Sutherland and Shayne Williams, George Mullen and Rachel LaCasse, John and LaVoye Huff, Andrea and Jeff Swanson, Melissa and Elizabeth Bronson, John Mullen and Sara Hansell, Paul and Amanda Mullen, Brenden McGann, Kirsten and Todd Darrington, Jessie Knowlton, Jenet and Josh Faulkner. And also by many great-grand children: Alyssa and Annalyse Huff, Chaz and Bella Swanson, Emma Faulkner, Kiley and Keegan Mullen, Hannah and Max Williams.
Funeral Mass was held Monday March 29 at 10:00 am at St. Pius X Catholic Church. A Vigil service was held Sunday March 28 at 6:00 pm at Spanish Valley Mortuary. Interment was at the Sunset Memorial Gardens Cemetery.
Photo Gallery - Click a Picture For Enlarged Slide Show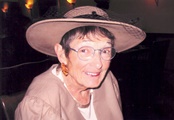 Printable Page Add Picture Add Tribute/Condolence
PLEASE NOTE: Pictures and Tributes will be reviewed before being posted. We will post them ASAP, we appreciate your patience. PLEASE DON'T RESUBMIT.
H Wayne Norton
b: 4/12/1926
d: 4/1/2020
Service: 04/03/2020, 1:00 pm
Sunset Memorial Gardens Cemetery
Debbie Moniz
b: 4/16/1956
d: 3/28/2020
Service: Pending
Laurel Weeks-Pinkham
b: 8/28/1950
d: 3/20/2020
Service: 03/27/2020, 1:00 pm
Sunset Memorial Gardens
Terry Seal
b: 4/24/1949
d: 3/15/2020
Service: Private
Julia Shephardson
b: 11/18/1954
d: 3/11/2020
Service: 03/20/2020, 1:00 pm
Grand Valley Cemetery
Royal Holter Jr
b: 8/20/1951
d: 3/10/2020
Service: 03/17/2020, 1:00 pm
Sunset Memorial Gardens Cemetery
Lois Jamison
b: 6/14/1925
d: 3/9/2020
Service: Pending
They Live On
Those we love remain with us
For love itself lives on;
Cherished memories never fade
Because one loved is gone.
Those we love can never be
More than a thought apart;
For as long as there's a memory,
They live on within our heart.