John Urbanek
Born: 4/9/1929, Salina, Kansas
Death: 3/25/2010, Moab, Utah
Service: 04/16/2010, 7:00 pm, Moab Museum

John Charles Urbanek, a resident of the Moab area since 1971, died on March 25, 2010. After a life spent following every dotted-line road on the map, he heads off to parts unknown one more time. He leaves behind Anne Urbanek, his wife of 50 years, and two children: David Urbanek and Amy Urbanek. John was born in Gypsum, Kansas in 1929 and he spent his childhood in Gypsum and Salina, Kansas. He was a pilot in the Navy during the Korean Conflict, graduated from Kansas State University and spent his entire career working for the United States National Park Service. It was this career, and his love of the outdoors, that led him to meet his wife who had come from Chicago, Illinois for seasonal employment at Grand Teton National Park in 1957. During his time in the National Park Service, he left his mark on projects from Mesa Verde, Colorado, to the Dead Sea Scroll Caves in the country of Jordan. It was this career which led him to settle in Moab where he spent 14 years as the head of maintenance for Arches, Bridges and Canyonlands National Parks.
The National Park Service wasn't Just his career, 'rt was his passion. John and Anne spent as much time as possible enjoying nature. Every vacation involved two or more National Parks. He spent many hours exploring the countless hills and canyons of the local parks, and the surrounding country side. He so loved seeing new places that he never returned home on the same route on which he left. To John, every road, and every trail, led somewhere interesting. Even well into his seventies, he could be found hiking along new trails or driving down some obscure back-country road he found on a map.
John's interest in maps led him to construct his giant relief map of the Moab area which he patiently constructed, piece by hand-carved piece, in his basement. It took over twenty years to make and it speaks to his conviction that amazing things can be accomplished, if you just persevere. He donated the map to the Dan O'Laurie Canyon Country Museum where it is on display for the whole community to enjoy.
John will be remembered by his family, many friends and co-workers for his boundless enthusiasm and bigger-than-life laughter. He was a wonderful husband, father and friend. Included in his legacy is his patient perseverance through the pain and indignities of the cancer which took his life. It would have been uncharacteristic of John to show anger or self-pity, because he truly lived his favorite quote from his favorite author, artist and satirist, Walt Kelly: "Don't take life so serious, son. It ain't nohow permanent."
John's remains were cremated at Spanish Valley Mortuary and Crematorium. A remembrance event will be scheduled in the near future and will be announced in the Times-Independent. Donations to his memory can be made to the Dan O'Laurie Canyon Country Museum, 118 East Center, Moab, Utah, 84532 or the Humane Society of Moab Valley, P.O. Box 1188, Moab, Utah, 84532. If you want to remember and honor John Urbanek, make your way to your favorite secluded spot, silently soak in the world around you and appreciate the precious gift of natural places. That is what he would do.
Photo Gallery - Click a Picture For Enlarged Slide Show


Printable Page Add Picture Add Tribute/Condolence
PLEASE NOTE: Pictures and Tributes will be reviewed before being posted. We will post them ASAP, we appreciate your patience. PLEASE DON'T RESUBMIT.

Ronald Robertson
b: 8/24/1934
d: 9/27/2020
Service: 10/02/2020, 11:00 am Moab LDS Stake Center on Locust Lane

Mary Mays
b: 3/5/1939
d: 9/22/2020
Service: Pending


OraLynn Means
b: 7/13/1936
d: 9/21/2020
Service: 09/28/2020, 11:00 am at The LDS Church on 400 North


Guy Thomas
b: 1/10/1950
d: 9/18/2020
Service: Private


Werner Wucherer
b: 1/20/1934
d: 9/10/2020
Service: Private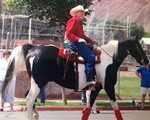 Rodney Dalton
b: 1/18/1934
d: 9/1/2020
Service: 09/08/2020, 10:00 am Grand Valley Cemetery

They Live On
Those we love remain with us
For love itself lives on;
Cherished memories never fade
Because one loved is gone.
Those we love can never be
More than a thought apart;
For as long as there's a memory,
They live on within our heart.