Carol Ann Ekker
Born: 5/5/1950, Billings, Montana
Death: 6/16/2019, Price, Utah
Service: 06/22/2019, 10:00 am, Elgin Cemetery

Carol Ann Ekker, age 69, passed from this life on June 16, in Price, Utah. She spent her life as an active person, dedicated to her Family, Friends and Community. Carol was born on May 05, 1950 in Billings, Montana, the daughter of Harry and Ruth Trouth. Carol Married Jessie Ekker December 26, 1970 in Ely, Nevada.
Carol worked at the Green River Golf Course, she was active in the Beta Zeta Sorority and served on the Board of Directors of The Green River Medical Center and The Emery County Library.
Carol is survived by her Husband, Jessie, Green River, Son Douglas, Moab, Utah and Daughter Valerie, Cedar Rapids, Iowa, Grandson Jessie Wyatt Ekker, Green River, Granddaughter Brylee Ekker, Cedar Rapids, Iowa, one Brother, Ken Trouth and a sister Mrs. Nancy King, along with many Friends and Family.
At Carolís request cremation has taken place and a graveside service will be held Saturday June 22, 2019 at 10:00 am at the Elgin Cemetery near Green River.
Photo Gallery - Click a Picture For Enlarged Slide Show




Printable Page Add Picture Add Tribute/Condolence
PLEASE NOTE: Pictures and Tributes will be reviewed before being posted. We will post them ASAP, we appreciate your patience. PLEASE DON'T RESUBMIT.

Ronald Robertson
b: 8/24/1934
d: 9/27/2020
Service: 10/02/2020, 11:00 am Moab LDS Stake Center on Locust Lane

Mary Mays
b: 3/5/1939
d: 9/22/2020
Service: Pending


OraLynn Means
b: 7/13/1936
d: 9/21/2020
Service: 09/28/2020, 11:00 am at The LDS Church on 400 North


Guy Thomas
b: 1/10/1950
d: 9/18/2020
Service: Private


Werner Wucherer
b: 1/20/1934
d: 9/10/2020
Service: Private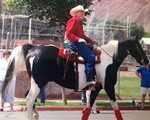 Rodney Dalton
b: 1/18/1934
d: 9/1/2020
Service: 09/08/2020, 10:00 am Grand Valley Cemetery

They Live On
Those we love remain with us
For love itself lives on;
Cherished memories never fade
Because one loved is gone.
Those we love can never be
More than a thought apart;
For as long as there's a memory,
They live on within our heart.