Linda Lee Canepa

Born: 3/14/1940, Moab, Utah
Death: 11/14/2019, Elko, Nevada
Viewing: 11/21/2019 12:00:00 PM, Spanish Valley Mortuary
Service: 11/21/2019, 1:00 pm, Spanish Valley Mortuary
Interment: 11/21/2019, 2:00 pm, Grand Valley Cemetery


Linda L. Canepa, beloved wife, mother, grandmother, great-grandmother and friend who passed away on November 14 in Elko, Nevada surrounded by her family.

Linda was born on March 14, 1940 to William E. Driscoll and Marjorie T. Driscoll joining older brother, Michael in Moab, Utah. The family later moved to Idaho and Montana before moving back to Moab where Linda graduated from Grand County High School and remained for the next 33 years.

In 1963, Linda met the love of her life, Donald L. Canepa and they married on November 29 of that year. This union joined Linda and her children, Jodi & Bill with Don and his son Donny. In 1967 Linda and Don welcomed another son, Mark to the family. They were married 48 years until Don's passing in 2011.

Linda's greatest joy came from her family. She loved her children more than anything and was always there for them. She spent many hours at the ball park cheering on Don and the kids playing softball. She rarely missed a game. She was always up for a camping and fishing trip on the LaSal Mountains or a backcountry drive through the desert with the family. It was always an adventure.

One of Linda's greatest honors in life was becoming "Grammy". She loved her 12 grandchildren with her whole heart and was proud of every one of them. She is also survived by 13 great-grandchildren.

In 1990, Linda and Don were transferred with Don's job to Eureka, Nevada where Linda made lasting friendships and found a new hobby…..poker machines. She was a very lucky lady, winning several royal flush jackpots. She also enjoyed ceramics, quilting, crocheting and playing bridge along with cheering on the LA Lakers, Denver Broncos & Dale Jr.

She was a loving and caring wife, mother and Grammy and will be greatly missed by all who loved her.

Tributes:

Jodie, Bill, Donnie & Mark; My sympathy to all of you in the loss of your mother. Once upon a time, we were neighbors and friends and went camping together and spent time at each other's homes. Many years have passed since then but I hope you remember the good times. Again, my sympathy to you all. (I'm Ron & Lisa Dickerson's mom.)
- Diane RynioDon and family, So sorry to hear of Linda passing. My heartfelt condolences to all. May her memory be eternal and the loving warm memories you shared help you in the times you feel her presence gone most. How fond my memories are when we were all in Nevada.
- Judi Bishop(Hyita)Don, We were so sorry to hear of your mother's passing. We didn't know her, but knowing your own character, she must have been a lovely woman. Regards,
- Tim and Sharon Horn

Printable Page Add Picture Add Tribute/Condolence

PLEASE NOTE: Pictures and Tributes will be reviewed before being posted. We will post them ASAP, we appreciate your patience. PLEASE DON'T RESUBMIT.
Mary Mays
b: 3/5/1939
d: 9/22/2020
Service: Pending


OraLynn Means
b: 7/13/1936
d: 9/21/2020
Service: 09/28/2020, 11:00 am at The LDS Church on 400 North


Guy Thomas
b: 1/10/1950
d: 9/18/2020
Service: Private


Werner Wucherer
b: 1/20/1934
d: 9/10/2020
Service: Private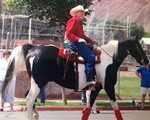 Rodney Dalton
b: 1/18/1934
d: 9/1/2020
Service: 09/08/2020, 10:00 am Grand Valley Cemetery

They Live On
Those we love remain with us
For love itself lives on;
Cherished memories never fade
Because one loved is gone.
Those we love can never be
More than a thought apart;
For as long as there's a memory,
They live on within our heart.