Susan H Dalton
Born: 6/5/1926, Parowan, Utah
Death: 7/22/2010, Moab, Utah
Service: 07/29/2010, 04:00 pm, Spanish Valley Mortuary

Susan Halterman Dalton, 84, beloved mother and grandmother, passed away July 22, 2010 at Allen Memorial extended care facility.
Susan was born on June 5, 1926 to Samuel Amasa and Alice Lydia Matheson Halterman in Parowan, Utah. She was preceded in death by her parents, brother Arvell Halterman, sister-in-laws Maud and Connie Halterman, and Adrian E. Dalton her husband and father of their children, (they later divorced but he is loved and missed by all).
Sue is survived by her beloved brother Lyle Halterman, beloved cousins Barbara Burt, Paul and Florian Warby all of Iron County, UT.
Also survived by her children who will miss her dearly, her eldest son Sam R. ( Kym) Dalton; daughters Charlotte Harris and Suzanne Dalton; and youngest son Douglas S. Dalton; her wonderful grandchildren Lisa (Matt), Amber, Tadd, Arthur, Michael (Julie), Nicole (Joey), Matthew (Carrie), and Nathan (Lindsey); 13 great-grandchildren
Sue was an accomplished pianist and was an organist at BYU, she was also voted Miss Congeniality while attending BYU. Sue was a member of the LDS Church and had great faith in the gospel, was an avid knitter and had a great talent in writing poetry. In 1999 she wrote, "When, at last, I sail away, no, funeral, please! Just a reunion of family and friends! (and make it a good-one – OK)" "Don't grieve for me for now I'm free – I'm following the path God laid for me. I took his hand when I heard him call…. I turned my back and left it all….Lift up your hearts and share with me…. God wanted me now… He set me free"
The family would like to sincerely thank the incredible staff at Allen Memorial Extended Care, who made her last few years, a few of her best. Upon her arrival she was legally blind , but with the support care and love of the staff, she agreed to have cataract surgery and regained her sight. She began playing the piano again after many years and it was so enjoyed by all. Your care was greatly appreciated!
There will be a small Memorial Service for Sue on Thursday July 29, 2010 at 4:00 pm at the Spanish Valley Mortuary 386 North 100 West. We welcome all to pay tribute to a very special lady who will be greatly missed and is dearly loved.
A family reunion will be held in Parowan Sue's home town at a later date.
Photo Gallery - Click a Picture For Enlarged Slide Show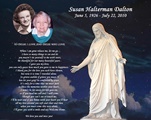 Printable Page Add Picture Add Tribute/Condolence
PLEASE NOTE: Pictures and Tributes will be reviewed before being posted. We will post them ASAP, we appreciate your patience. PLEASE DON'T RESUBMIT.
Bobby Brookshier
b: 5/7/1929
d: 1/21/2019
Service: 01/28/2019, 1:00 pm
Spanish Valley Mortuary
Michaelene Pendleton
b: 5/15/1946
d: 1/21/2019
Service: Private
Jeanne von Zastrow
b: 6/10/1955
d: 1/20/2019
Service: 01/26/2019, 11:00 am
St Francis Episcopal Church
Michael Shumway
b: 6/13/1953
d: 1/17/2019
Service: 01/22/2019, 12:00 pm
Sunset Memorial Gardens Cemetery
W J Tyler Palmer
b: 3/23/1985
d: 1/11/2019
Service: 01/16/2019, 5:00 pm
Sand Flats Recreation Area D Loop #D-18
Kathleen Daniels
b: 10/25/1962
d: 1/11/2019
Service: Private
Gary Walter
b: 2/26/1947
d: 1/9/2019
Service: Private
Lisa Lee Maher
b: 9/18/1930
d: 1/3/2019
Service: Private
Robin Groff
b: 10/24/1952
d: 1/2/2019
Service: 01/12/2019, 1:00 pm
M A R C
Bill Hopkins
b: 3/20/1951
d: 1/2/2019
Service: Private
H Gill Nielsen
b: 10/22/1941
d: 1/1/2019
Service: Private
Norma Nunn
b: 5/9/1933
d: 12/28/2018
Service: 01/05/2019, 11:00 am
Moab Community Church
They Live On
Those we love remain with us
For love itself lives on;
Cherished memories never fade
Because one loved is gone.
Those we love can never be
More than a thought apart;
For as long as there's a memory,
They live on within our heart.