Robert Sydney Pattison
Born: 2/16/1939, Leeds, England
Death: 7/30/2010, Moab, Utah
Service: 08/07/2010, 2:00 pm, Spanish Valley Mortuary

Robert "Bob" Sydney Pattison passed away on July 30, 2010 at Allen Memorial Hospital, Moab, Utah with his family at his side. He died from complications related to his recent battle with cardio pulmonary disease, emphysema and cancer.
Bob was born on February 16, 1939 in Leeds, England to the late John Robert Pattison and Renee Guy Pattison.
Bob grew up in Darlington, England. He graduated from the University of Durham, King's College in Newcastle, England in 1963 with a Bachelor of Applied Science in Mechanical Engineering and Metallurgy. He pursued his career by taking a position with Anglo-American Corp. in the Zambian Copperbelt, Africa. Following eight years in Zambia, he moved to North America where he lived for a brief time in the Yukon, Canada before finally settling in Moab, Utah in 1974. Bob was hired as Plant Superintendant and later rose to the position of Manager of the Rio Algom Lisbon Valley uranium mine and mill where he oversaw the last years of operation and the eventual decommissioning of the site in 1992. In semi-retirement Bob was an engineering consultant for many different radiation reclamation projects; most notably, was the Atlas Corporation mill tailings reclamation in Moab. Bob was appointed by former Governor Mike Leavitt to the Utah Radiation Control Board where he served from 2002 thru 2007.
He was a gifted engineer and practical problem solver whose devotion to his profession went well-beyond simple employment. Bob dedicated his life to constant learning and the pursuit of knowledge which continued through his final days. At the same time, Bob was also an open and welcoming friend who always had a story to tell from one of his numerous life adventures. Bob adored his wife Dot and doted after all his grandchildren. Bob had a passion for cycling, which included competing in road races in his youth, riding for pleasure in and around Moab, and following the professionals in the grand tours.
Bob's commitment to public service was evident through his membership in the Moab Lions Club, where he twice served as local chapter President. Over the last 35 years, Bob worked on many community projects, such as breakfast fundraisers, community calendars, and the Sight First program to fight blindness.
Bob was preceded in death by his parents; brother, Colin Pattison; granddaughter, Sydney Ellen Day; and grandson, Sean Robert Pattison.
He is survived by his wife of 49 years Dorothy "Dot" Pattison; son Graham Robert (and wife Janet) Pattison of Phoenix, Arizona; daughter Lynda Pattison (and husband Chris) Jensen of Price, Utah; son Paul Gavin (and wife Brione) Pattison of Charlotte, North Carolina; and his beloved grandchildren Whitney Day, Nicole Pattison, Devon Day, Marietta Pattison, Charlotte Pattison, Ryan Jensen, Tanis Jensen, Matti Jensen; and a host of other family and friends.
Celebration of Life: Saturday, August 7th 2010, 2 p.m., Spanish Valley Mortuary, 386 N. 100 W., Moab, Utah.
Memorials: In lieu of flowers Livestrong.org or Lance Armstrong Foundation Endowment, Grand County Hospice, Moab Lions Club or a charity of your choice.
Photo Gallery - Click a Picture For Enlarged Slide Show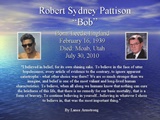 Printable Page Add Picture Add Tribute/Condolence
PLEASE NOTE: Pictures and Tributes will be reviewed before being posted. We will post them ASAP, we appreciate your patience. PLEASE DON'T RESUBMIT.
Dorothy Carpenter
b: 3/9/1921
d: 8/7/2018
Service: 08/17/2018, 10:00 am
Community Church
Shirley Bertwell
b: 5/26/1936
d: 8/6/2018
Service: 08/24/2018, 1:00 pm
Spanish Valley Mortuary
Nolan Morse
b: 12/6/1923
d: 7/29/2018
Service: 08/03/2018, 10:00 am
Grand Valley Cemetery
Nancy Ball
b: 6/16/1947
d: 7/29/2018
Service: Pending
Laura Senter
b: 11/8/1936
d: 7/26/2018
Service: Pending
Shirley Miller
b: 10/9/1925
d: 7/17/2018
Service: Private
Samuel Swindle
b: 2/21/1948
d: 4/3/2018
Service: 08/25/2018, 2:00 pm
Palmer Park Colorado Springs, CO
They Live On
Those we love remain with us
For love itself lives on;
Cherished memories never fade
Because one loved is gone.
Those we love can never be
More than a thought apart;
For as long as there's a memory,
They live on within our heart.