Paul Clifford Eggeling

Born: 2/27/1936, Washington D.C.
Death: 8/14/2020, Castle Valley, Utah
Service: Private


obit to be added at a later date.

Tributes:

I so sorry for your loss. Cliff was a super person and he will never be forgotten. He made me laugh and smile so much. Teresa, I think of you and Cliff all the time. You two were some of the best people we met in Moab. Thinking of you! Love,
- Betty Avalos Theresa, David and Jim, You have my deepest sympathy on Cliff's passing. He was a very special, intelligent, kindhearted man. I always enjoyed my conversations with him. My thoughts are with you; he will be missed.
- Carol M DrakeDear Teresa & Family -
My thoughts & prayers are with you as you mourn Cliffs passing and celebrate the completion of Cliffs circle of life. I fondly remember Cliffs dedication to community while in Lions Club. It was always a pleasure to see you both while working side by side.
With sympathetic love,
- Charlotte Mates>Thersa, sorry for loss. I loved when you guys came to the hospital and I was able to help you guys out. Love you.
- Cheryl GreerSending sympathy to you Theresa, Dave, and Jim, for the loss of your Cliff. He was such a good man, and we count ourselves blessed to have known him as a friend and helper. Sending our prayers for you all to have love and peace as you go on. your friends
- Dave and Sherry ArehartTheresa I just found out about Cliff. I am so sorry for your loss, I really know what you are going through. Please let me know if I can do anything. Cliff was a great trail leader and friend. He will be missed by all. Love ya,
- EveTeresa and family, We are very sorry to hear of Cliff's passing. He was a fun guy to know and we have enjoyed knowing you both all these years. Our thoughts and prayers are with you during this difficult time.
- John and Lynne GreenWe sadly just learned of Cliff's passing. We were all shocked and heartbroken. Our first thought was for Theresa as they were inseparable, you didn't see one without the other, we are sure she is lost without her other half. We so enjoyed getting to know Cliff as members of the Rodeo Committee sure had a lot of respect for them and their community service. Lots of fun with them at the Rodeos in Moab and convention in LV, a friendship was formed that we are grateful for. Cliff was funny, wonderful, a genuine Gentlemen who we will miss along with all those lucky enough to know and work beside him. Sending love and Huggs to Theresa and family and may your memories remind you to smile in the sad sad days ahead. We love you
- Kent, Cricket,Am,Josh&FamilyWe lost a very special man. I will always remember all the fun times we had together. My thoughts and prayers for you Theresa and and all the family.
- Lori R RitchierWe are so sad to hear of Cliff's passing. He will be dearly missed. Our deepest condolences and prayers are with you.
- Lorrie & Kerry LangeDear Theresa and Family, I am sorry for the loss of Cliff. What an unforgettable man. I truly enjoyed working with you both during the rodeo and then seeing you around town for many years afterwards. You both are such amazing people and always so welcoming. Thank you for spreading love and cheer always.
- Michelle Mefret

Printable Page Add Picture Add Tribute/Condolence

PLEASE NOTE: Pictures and Tributes will be reviewed before being posted. We will post them ASAP, we appreciate your patience. PLEASE DON'T RESUBMIT.
Mary Mays
b: 3/5/1939
d: 9/22/2020
Service: Pending


OraLynn Means
b: 7/13/1936
d: 9/21/2020
Service: 09/28/2020, 11:00 am at The LDS Church on 400 North


Guy Thomas
b: 1/10/1950
d: 9/18/2020
Service: Private


Werner Wucherer
b: 1/20/1934
d: 9/10/2020
Service: Private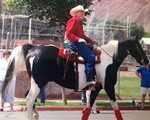 Rodney Dalton
b: 1/18/1934
d: 9/1/2020
Service: 09/08/2020, 10:00 am Grand Valley Cemetery

They Live On
Those we love remain with us
For love itself lives on;
Cherished memories never fade
Because one loved is gone.
Those we love can never be
More than a thought apart;
For as long as there's a memory,
They live on within our heart.