| | | |
| --- | --- | --- |
| Poems | | |
Don't Say Good-Bye
Sometimes It's hard
to understand why
Someone you love
must be taken away from you.

But I want to tell you
That I'm not too far away,
And I've been watching over you
You'll be mine again some day.

Don't say good-bye my son,
I want you to smile my friend,
Believe in forever,
That's what I want you to do.

Don't hang your head down low,
I'll help you to carry your load,
I know that you're waiting,
for me to come home.

Don't say good-bye my son,
I want you to smile my friend,
Believe in forever,
That's what I want you to do.

Don't Say Good-Bye

Lorrene Taylor Curtis (1961-2008)
NOTE:Written in the 1980's.

Ronald Robertson
b: 8/24/1934
d: 9/27/2020
Service: 10/02/2020, 11:00 am Moab LDS Stake Center on Locust Lane

Mary Mays
b: 3/5/1939
d: 9/22/2020
Service: Pending


OraLynn Means
b: 7/13/1936
d: 9/21/2020
Service: 09/28/2020, 11:00 am at The LDS Church on 400 North


Guy Thomas
b: 1/10/1950
d: 9/18/2020
Service: Private


Werner Wucherer
b: 1/20/1934
d: 9/10/2020
Service: Private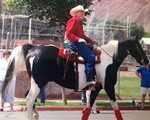 Rodney Dalton
b: 1/18/1934
d: 9/1/2020
Service: 09/08/2020, 10:00 am Grand Valley Cemetery

They Live On
Those we love remain with us
For love itself lives on;
Cherished memories never fade
Because one loved is gone.
Those we love can never be
More than a thought apart;
For as long as there's a memory,
They live on within our heart.